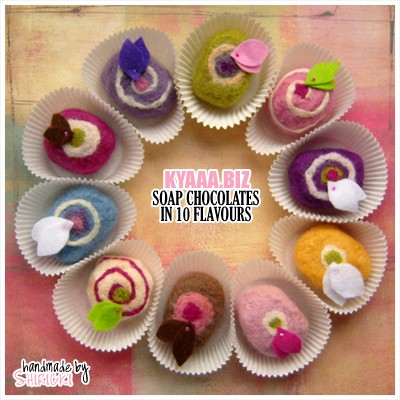 These were extremely popular. I had never expected it. I created the idea when I had very very tiny soap pieces left and needed an alternative to throwing them away. So, the idea of soap chocolates had been born. I just offered a few and they were sold out within not even 24 hours. So I created more and more versions of them.
The soap was made especially for kyaaa.biz by a professional soap manufactory under the highest cosmetic standarts. The soap is certified and consists only of the ingredients that were listed.
Great gift idea: This makes a perfect (Christmas or birthday) gift for someone very special, in case you want to give something extra unique.
100% handmade. Every single soap is hand-felt with a lot of love and patience. That means that every soap is an unique item and only exists one single time. Even if the motive seems similar, no soap equals one another.